What is Magento ecommerce?
Magento is a free and open-source ecommerce platform. You can install it wherever you want, without being bound to any obligations with your web developer. You can change both your developer and hosting provider at any time.
You have full access to both the source code and the database, making it easy to make changes to the system.
In addition, you can choose from a wide range of Magento extensions, which are usually cheap or free. It's also easier to design in Magento as opposed to proprietary systems, which are often limited in terms of how they can be modified because only a core set of developers has access to the source code.
Magento ecommerce development
Get into a Magento service agreement with us and we'll do your support and development jobs.
End-to-end ecommerce solution for both Magento 1 and Magento 2
Import and configuration of products, variants, and prices
Installation and configuration to your chosen hosting server
Development of custom Magento extensions (if the functionality is not available in Magento or in commercial extensions)
Speed optimization and technical SEO
Taking over and continuing stalled Magento projects
Magento ecommerce support
Day-to-day maintenance to keep your Magento shop at its optimal condition
Updates to latest version releases as well as security updates
Integrations with third-party systems (ERP, PIM, CRM, inventory management)
Tutorials and assistance in using Magento
Upgrade from Magento 1 to Magento 2
Magento 2 upgrade planning
Migration of data and setting up of templates
Validation and installation of third-party extensions
Integrations with third-party systems
Speed optimization and technical SEO, including Core Web Vitals
Post-upgrade Magento support
Integration of Magento ecommerce with third-party systems
ERP systems (e.g., Navision, e-conomic, SAP, etc.)
PIM systems (e.g., Akeneo, inRiver, etc.)
Affiliate systems (e.g, TradeDoubler)
General B2B integration (e.g., synchronize inventory, prices, and other features with your own or your supplier's systems)
Automation of shipping by integrating with drop shipping providers
Integration with cash registers (POS)
Automation of internal business processes
Social media (importing or integrating your product catalog with Facebook shopping and dynamic ads)
We typically use Magento extensions when doing integrations. If a specific extension is not available, we develop it ourselves.
Scalability of Magento ecommerce
Magento ecommerce offers scalability — the system grows with your webshop.
As your business grows, it may be necessary to have more webshops. Fortunately, Magento ecommerce's built-in "multi-store" functionality makes it possible to have multiple webshops with the same backend.
This means you can have two, three or more webshops (each with its own domain and design), all using the same backend. With Magento's multi-store feature, multiple webshops can use the same server and can often also share extensions if the extensions are licensed per Magento installation. However, some extensions may require one license for each domain, so you will need to check the license agreement or terms and conditions before purchasing.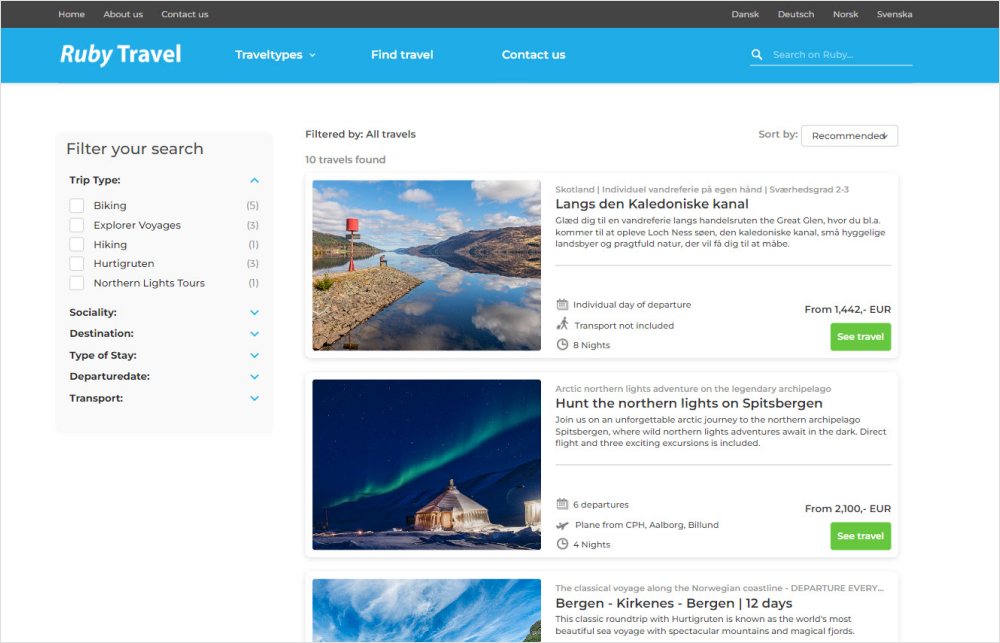 Data migration
We can migrate all data (products, inventory, customer data, etc.) from your existing webshop to a new (or existing) Magento ecommerce site.
Prior to having your new webshop developed, it must be determined how data can be exported from your old webshop to the new shop. We will advise you on how that can be done, and will of course do the technical work, but you will have to get us the data access needed so that we can copy data to the new shop. It can be complicated, especially if you are using a proprietary system. From experience, companies offering proprietary systems are usually less cooperative when their customers want to switch to another platform.
If on the other hand you are upgrading from a Magento 1 webshop or moving from a WordPress WooCommerce shop to Magento, it is usually not a problem.
Note: We've had scenarios where the client's previous proprietary ecommerce system did not allow for their webshop data to be copied or exported when they wanted to migrate to Magento. The only solution was to re-enter all products, customer data, and inventory information manually. They also had to accept that they lost all their transactional data in the process.
It is possible to run "scraping"—a program that 'spiders through' a webshop, then copies texts, prices, and photos into a database so that the data can be exported to Magento. The drawback is that it is not 100% perfect and is very time consuming and expensive to do.
View our prices
An error has occurred with your entry. Please update and try again.