What we design
Webshops or ecommerce sites
Websites
iOS and Android apps
Ad banners and graphics (Google Display, Facebook, etc.)
Social media posts
Logos, icons, and other branding materials
Print collaterals (brochures, magazines, etc.)
Our web and app designs are guided by standards from Baymard Institute and Interaction Design Foundation, as well as experience and common sense. We make sure that not only do our designs look good, they are also optimized for user experience and more conversions.
How we design
Our design process makes it easy for you to brainstorm and collaborate with us, no matter where you are in the world.
We usually do the first design draft, then meet with you and refine it, typically in real-time using Google Meet, Zoom, or Microsoft Teams. During these collaboration sessions, you can comment and make suggestions while the designer implements the changes right then and there. By the end of the meeting, you get a working prototype to try for yourself or share with colleagues and other stakeholders.
This new way of working not only saves a lot of time (traveling time, small talk, etc.), it also gives you the option to add colleagues to a meeting regardless of where they are physically — and this on a very short notice and need-to basis, something that is not possible with physical meetings!
Ecommerce design
A good ecommerce site design makes it easy for customers to complete a purchase. Our designers create webshop designs from scratch, or based on an existing theme — either way, we optimize your webshop pages for a frictionless shopping experience that leads to more sales.
Learn more about our ecommerce design services.
Website design
Your website is the online storefront of your company. We create designs that leave a good impression while at the same time being optimized for leads, signups, submissions, and other conversions that matter to your business. Choose whether you want a completely unique UI/UX designed from scratch, or a more cost-effective theme-based design.
Learn more about our website design services.
App design
We create engaging mobile app designs, guided by research and best practices. Whether you want an iOS- or Android-only app or both; a customer-facing app or an internal system for your company — we got you covered.
Learn more about our app design services.
Branding
Make your brand stand out among the competition. Our design team helps you define your company branding — from researching your industry, target audience, and competitors at the planning and conceptualizing stage, to designing your logo, color scheme, typography, and other key brand elements.
Learn more about our branding services.
Other print and graphic design
Let us handle the design tasks that complement your company's digital strategy — we do icons, illustrations, animation, image and video editing, and more. We also design for print: magazines, brochures, and other company collaterals that you need.
Learn more about our print and graphic design services.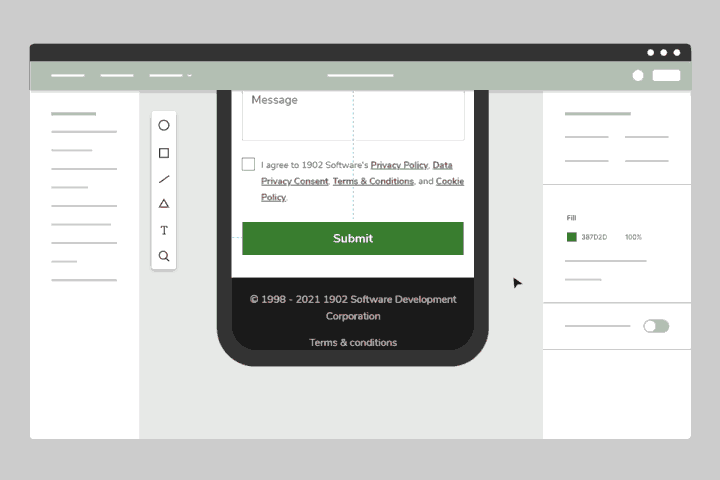 Get a link to our pricelist
An error has occurred with your entry. Please update and try again.