We create website designs that not only leave good impressions but are designed to convert — whether you need leads, signups, or any other conversions that matter to your business.
Choose whether you want a completely unique website designed from scratch, or a more cost-effective theme-based design.
Website design
We create mockups for the major page types of your website, and design them according to research-backed standards by Baymard Institute:
Home page - Most of your visitors initially land on the home page, so we make sure that its design serves as a good starting point for users to make their way throughout the site, by promoting the most important elements and content.
Content pages - We design the different content pages in a way that showcases the value of your company and offerings. Typically, these pages are:

CMS pages (text, images, and downloadable content)
About page
Contact and submission forms
Blogs
Special product or service pages you may have.
Theme-based design vs custom website design
When you work with our web designers at 1902 Software, you have two options: a theme-based design, where our design team can customize themes to suit your business, or a custom design, where we create a website design from scratch in collaboration with you.
Having a theme-based design is the more affordable solution, while a custom web design allows you to get a design that is tailored to fit your company's brand, industry, and target group.
If you want to learn more about the difference between a theme-based and custom design, you can read about it under the description of our processes in our webshop design page — where you can also find out how we create a web design from scratch.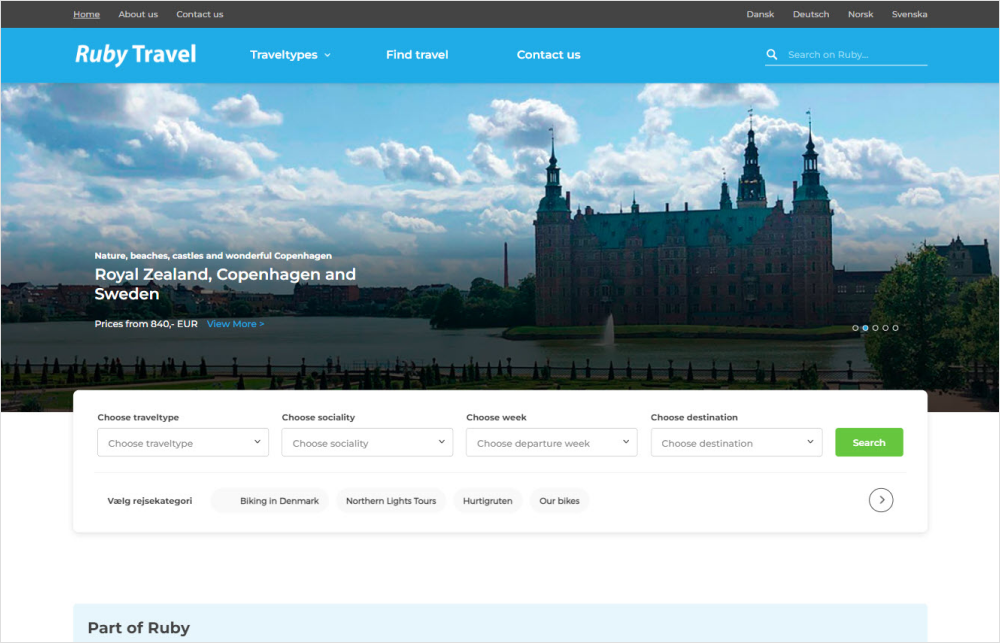 A look at our web design team and processes
Our design process makes it possible to collaborate with you from anywhere in the world via virtual meetings — where we implement design changes in real time. If you choose a custom website design, we start with wireframes, and if you choose an existing theme, we find a suitable theme and start from there.
We design the mockup before our meeting with you, and then we refine it in real time with you. Often, you can even get a working prototype by the end of the meeting. The collaboration is a combination of our expertise, the industry's best practices, and knowledge of your industry which provides the best possible prerequisites for developing a website design for you.
Our web designers have years of experience and have completed courses and certifications from both the Baymard Institute and the Interaction Design Foundation, so you are guaranteed a skilled and qualified team trained to design both beautifully and functionally without compromising conversion optimization. You can view some of our website designs here. Our Penneo design has been selected as one of the best website designs by Design Rush.
View our prices
An error has occurred with your entry. Please update and try again.