Estimated reading time: 12 minutes
Staying competitive and relevant in today's increasingly digital world (that's further accelerated by the pandemic) is no easy feat. One of the key things you can do to ensure your brand's visibility in search results and remain on top of your game is to be updated with the latest SEO trends. After all, updates to search engine algorithms happen 400-500 times every year! In this blog, we'll share with you 4 major SEO updates that you just can't miss when crafting your 2021 SEO strategy.
1. Core web vitals
Last year, Google introduced a new ranking signal called core web vitals that will be part of the overall page experience score — which is a combination of signals that measure how users experience your website. Monitoring your page experience will allow you to make adjustments to your site in terms of UX, helping you improve your ranking. Core web vitals measure three aspects of user experience on a website: loading performance, interactivity, and visual stability. These metrics include:
Largent contentful paint (LCP) - a metric for loading performance. This measures the time between when your page starts to load and the time it takes for the largest element of your page to be rendered. LCP measures elements including content images, background images, video poster images, and block-level text elements. If you want to get a good score, Google estimates that your LCP should load within the first 2.5 seconds.
First input delay (FID) - a metric for interactivity. This gauges how long it takes for your page to respond to the first interaction taken by a user on that page — such as clicking a button or a link. Google states that sites should strive to have an FID of less than 100 milliseconds. Measuring FID is critical in improving your user experience because it's the user's first impression of your site's responsiveness. FID is especially important for pages that require user interaction. These include log-in pages and pages with CTA buttons and links.
Cumulative layout shift (CLS) - a metric for visual stability. Different elements of your page can be loaded at different times and there will be instances when the layout will shift once a particular element is loaded on the page. You may have experienced at least once, when a page hasn't finished loading, you were about to click a button and suddenly the layout changes and the button moves. As a result, you may have ended up not being able to click the button or click another thing entirely. Either way, it disrupts overall user experience. The CLS metric measures the number of unexpected layout shifts that can happen while the page is loading. Google measures layout shifts by looking at the viewport size (the visible area for the user) and the movement of unstable elements in the viewport. According to Google, sites should strive for a CLS score of 0.1 if they want to provide great user experience.
For each of these core web vital metrics, Google will give you a numerical score and a corresponding rating of either "poor", "needs improvement", or "good". The overall score of your site, along with the issues affecting it, are all listed in a report in your Google Search Console dashboard.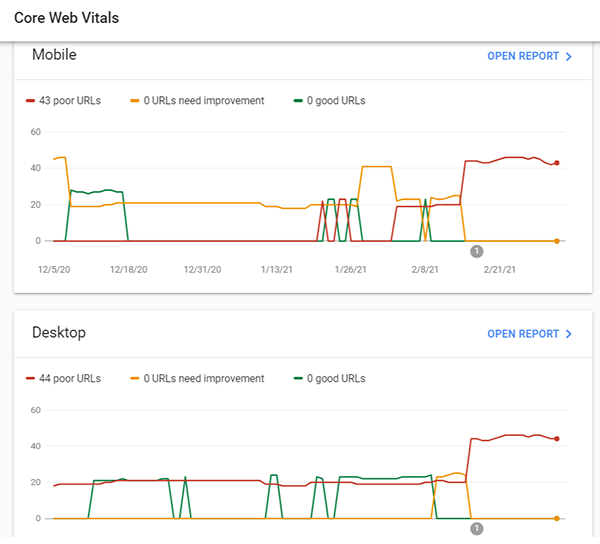 (If you don't have a Search Console setup yet, we encourage you to implement it now as it's a big help in your website optimization. Read our guide about the tool or contact us if you need help setting it up for your website.)
Meanwhile, if you want to see how each of your site's pages are doing in terms of the Core Web Vitals metrics, you can also visit Google's PageSpeed Insights tool. Unlike GSC, which offers you an overview of how your entire website is performing, PageSpeed Insights allows you to look at each page for some spot improvements.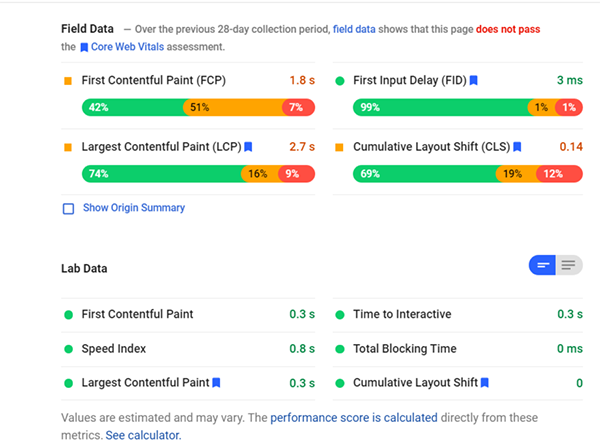 2. Mobile-first indexing
Previously, Google only ever indexed websites' desktop version but ever since mobile users took over desktop users, Google decided to enable indexing content from the mobile version of websites. This makes a lot of sense as more people are browsing the web using their phones.
Google has been working on mobile-first indexing for a few years now and they announced that they will finally enable mobile-first indexing for all sites in March 2021. For some, this update may seem like it's not a big deal but it's important to remember that there are instances when the desktop version doesn't match the mobile version. Take a look at the mobile vs desktop screenshots of our Custom Software page below.
(The desktop version of our Custom Software page)
(The mobile version of our Custom Software page)
This change in layout is intentional because huge blocks of text will not look good on mobile so we opted for an accordion format. With Google prioritizing mobile-first indexing, it's important to make sure that your website renders well on all devices, especially mobile.
Is your site optimized for mobile?
You can check your site's mobile-friendliness in your Google Search Console account. On the left menu bar of your GSC, just click Mobile Usability.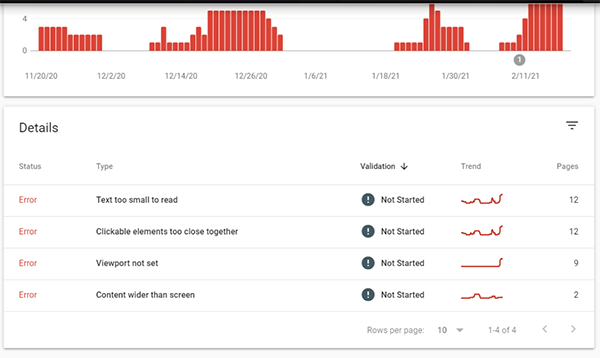 Here, you'll see if any of your pages are having issues on mobile. You can also use Google's Mobile Friendly Test  tool by entering your URL to easily check if your site is mobile-friendly.
To make sure your site's mobile-optimized, here are some things you can do.
Make sure that you have the same content on your desktop and mobile. You may want to do a review of your existing content (text, videos, images, links) on both desktop and mobile versions. There are times when the content on the mobile version is outdated in comparison to the desktop version.
Ensure that the mobile version of your site can be crawled and indexed. Check your website to see if your robots.txt file or your meta tags are correct. You don't want Google to miss crawling or indexing any of your live pages just because of an incorrect meta tag or an incomplete robots.txt file.
Adopt a responsive design. This allows your design to adapt to the users' screen size regardless if it's a tablet, mobile, or desktop. Make sure that you set the viewport property —which tells browsers how to adjust the dimensions of the page to accommodate the screen size. Otherwise, there will be instances where mobile users will see content that is too wide for their screen or will see elements that are too close to each other because the size of the screen was not accounted for.
3. Google passage ranking
Passage ranking is Google's new way of ranking specific sections or passages of your content in search results. Google is implementing this to help surface content that can better answer users' more complex queries.
Previously, Google only ranks content based on the relevancy of the entire page. This means that it misses out on useful information that is buried deep within long pages with multiple topics. What this new ranking update does is evaluate the content based on the relevancy of each passage — which helps Google rank up content that would have been overlooked when considering the page only as a whole. Aptly, Google states that evaluating passages helps find that needle-in-a-haystack information users look for.
This is not to be confused with "featured snippets", which are the snippets of text that appear on the top of the search results and serve to answer the user's query immediately. Google clarifies that passage ranking is an internal update that aims to better identify pages that are relevant to the query. Essentially, the change is about enhancing Google's ability to determine what will be in the featured snippets by evaluating the passages.
There's more to learn about Google passage ranking and we'll update this blog over time. As of February 10, 2021, Google deployed passage ranking live for all English-language queries in the United States. Further announcements will be made on when it will roll out in other countries. Google states that this will affect 7% of overall search queries when rolled out globally.
How can I make my contents' passages rank?
A lot of content writers and marketers are asking the same thing. In Search Engine Journal's interview with Google's Martin Splitt, the latter states that there are no changes that need to be done on websites as this update is purely internal and you can continue with your ongoing content optimization strategies. However, he does recommend that your content should be structured to make it easier for automated systems to understand its bits and pieces.
4. E-A-T
E-A-T stands for expertise, authoritativeness, and trustworthiness. If you've been in the SEO field for a while now, you're probably already familiar with this term. E-A-T is a defining factor of Google's recent Search Quality Evaluator Guidelines when it comes to identifying and ranking high quality pages. According to Google, a high quality page should have high expertise, authoritativeness, and trustworthiness. So what exactly do these factors entail?
Expertise - this refers to how knowledgeable the writer or the contributor of the content is. A CEO of a tech company may be ill-suited to write a blog about dealing with high-blood pressure, in the same way that a surgeon is not the best resource person to write a blog about relevant SEO practices this year. Your choice of expert, contributor, or writer must be suitable to the topic that you're writing about.
Authority - this mainly refers to not only your content creator but also your website. Having high authority means having relevant websites link to you or cite you because they believe that your website offers useful information. Essentially, it means you hold authority in a particular topic or industry hence other websites cite you in their content.
Trustworthiness - this means that your content creator/s, website, and business have credible reputations. Trustworthiness can come from positive client or customer reviews, satisfying website information, and having content that's original, sourced, and honest — not scraped off from another website.
5 ways to improve your E-A-T
Remember that search engines are getting smarter and better at detecting content that overlooks their search quality guidelines. To ensure that your website adheres to E-A-T, here are some things that you can do:
Have reliable and relevant experts as resource persons in your content.
Make sure that your website/webshop has pages that display accurate information about your business. This includes About Us, Contact Us, and Address pages.
Don't just display your positive reviews. Be transparent and do not hide negative reviews on your website. It's better to respond and keep these comments visible.
Provide content that is original and/or properly cited and not scraped off another website.
Build your domain authority by requesting backlinks from relevant and trustworthy sources.
SEO Reminders that aren't exactly new:
1.Implement schema to get rich results
While implementing schema or structured data doesn't really directly improve your site's ranking, it does help search engines understand your content better. Schema also helps you achieve rich snippets. In case you're not familiar with the term, rich snippets are those search results with added information other than the usual text and link combination.
As such, rich snippets get more clicks because they stand out in the search results. There are many types of rich snippets and you can read more about them and how to implement them in our rich snippet blog.
2. Utilize a Chromium-based crawler
Chromium-based crawlers aren't a new thing but they're still worth mentioning especially if your website is JavaScript intensive. Although Google previously crawled websites using the data extracted from HTML response, that is not the case anymore. Google now prioritizes data extracted from HTML rendered over HTML response.
However, there are times when the rendered HTML is significantly different from the response HTML — as is the case with JavaScript intensive sites. You can see the difference on the images below (response HTML on the top and rendered HTML below).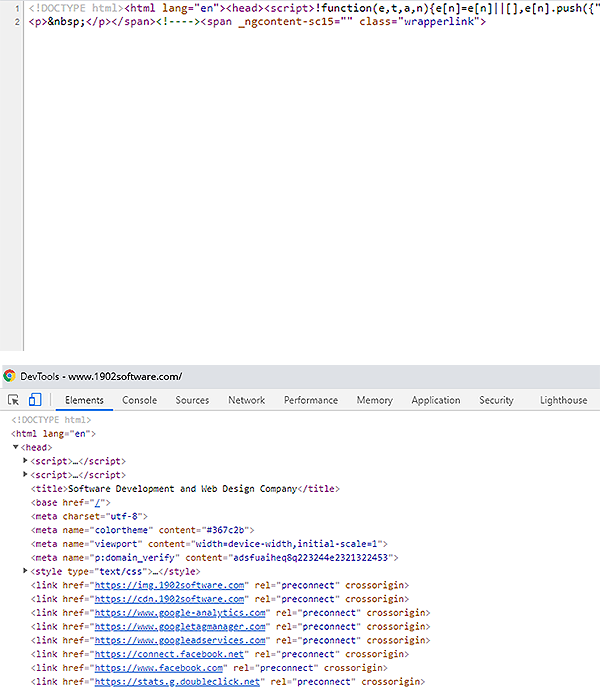 By default, SEO crawling tools consider response HTML and if your site is heavily reliant on JavaScript, your SEO crawling tool might miss out on important data since it's only crawling response HTML. If your site is JavaScript intensive, you may want to enable Chromium based crawling in your respective SEO crawling tool. You can read more about how JavaScript affects Google indexing in Sitebulb's blog.