Initial meetings
We typically begin by having a short meeting with you after you directly contact us or get referred to us by existing clients.
Aside from getting to know you, we also want to understand the objectives you have for your website, webshop, or app and establish if we are a good fit for what you're looking to achieve.
Once we have agreed on the review package that fits your needs, we will prepare a time and cost estimate and send it to you for approval.
Onboarding
Typically, you will work with our QA Manager for the whole review project. During onboarding, you will have a meeting or two with us where the following items will be discussed in relation to the review package you have chosen:
Overview of the company
The issues that you are currently aware of in your site or app
What you think the most important functionality or module in your site or app is
Any actions that we should not do during the review (e.g., we should not create a new product because it may mess up your import/export process, etc.)
We'll also send you a questionnaire that aims to get to know more about your industry, goals, and objectives, so that we can provide you with more personalized suggestions and ideas.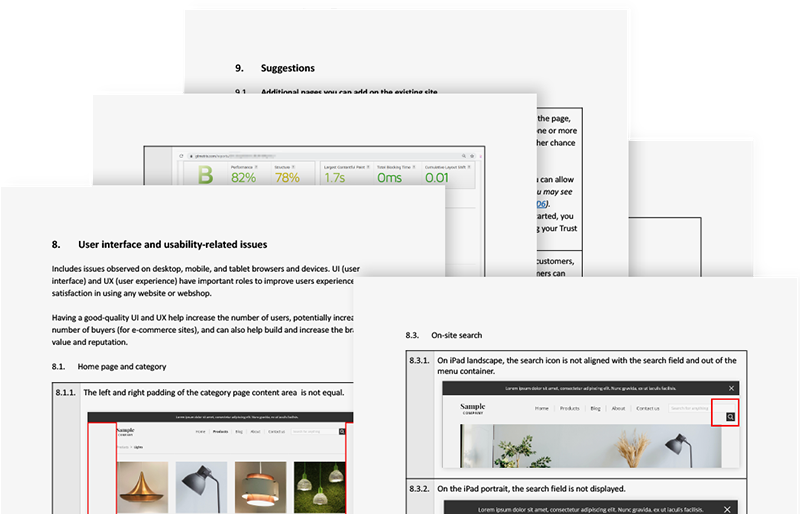 What we need to get started
Depending on the review package you have chosen, we may request for:
Access to source code (source code repository like Github, etc.) if we're doing a source code review
URL for testing (live or staging)
Admin access to site (username and passwords)
FTP (username and passwords)
List of PIM, IMS, ERP, and other system integrations (if any)
Access to Google Tag Manager
Access to Google Analytics
Access to Google Search Console
Access to email marketing system (e.g., Mailchimp)
List of user behavior analytics tools and tracking scripts (e.g., Hotjar, Crazy Egg)
Reports from any past testing or review you have done in your site or app
Once we have gathered all the information we need, we start with the review.
Review process
Here are the usual steps in our review process, which may vary slightly depending on the specific package you have chosen:
A technical project manager or senior developer gets involved with the system core checking and technical audit or source code review. Note that we only do these reviews for WordPress, Magento, Umbraco, and PHP or .NET-based systems. The reason is that these are the systems we develop for and thus have an in-depth technical understanding about. If we evaluate technical work done on a system or framework we don't have mastery of, the result will be questionable.
For websites and webshops, we run your site through various audit tools which generate reports of technical SEO and security-related issues. We compile them and provide a list of recommendations on how to fix such issues — sometimes technical, sometimes not.
We assign a dedicated QA tester, who goes through all unique pages or sections of the website, webshop, or app (as well as its backend, if applicable) to check its functionalities, UI/UX, cross-browser compatibility, and whether the responsive layout is in order on different devices and screen sizes.
We also review your site or app against our list of standard UX best practices and check for common usability pitfalls that may be found in your system.
Site or app review report
All of our findings from the review are compiled in one comprehensive report. At the beginning of the document, you will find a table summary of the issues we found, divided into categories and color-coded according to their level of importance (from our perspective).
The report will be accessible to you through a shared Google Drive, and can be downloaded anytime. We will then set up a meeting at your preferred date and time, so we can go through the report's findings and answer any questions that you may have. This meeting will be attended by our QA manager, as well as other team members as applicable (technical project manager, creative director, and someone from our marketing team).
Following the initial presentation of our findings, we can schedule follow-up meetings where we go in-depth and answer more questions from you. We can also have meetings where we explain the technical details to your developers.
The final output of the review will be fully owned by you, which means you are free to take it to another developer or company if you want them to fix the issues for you. Of course, our development team is also available to fix existing errors should you need assistance, but you have no commitment to continue with us after the review.
Interested in having your website, webshop, or app reviewed? Contact us today.
View our prices
An error has occurred with your entry. Please update and try again.