Our app designs are guided by research and best practices. Whether you want an iOS- or Android-only app or both; a customer-facing app or an internal system for your company — we have the necessary experience and know-how to execute and complete a design project successfully.
How we start the app design
Our design process makes it easy for you to brainstorm and collaborate with us, no matter where you are in the world.
We usually do the first design draft, then meet with you and refine it, typically in real-time using Google Meet. During these collaboration sessions, you can comment and make suggestions while the designer implements the changes right then and there. By the end of the meeting, you get a working prototype to try for yourself or share with colleagues and other stakeholders. This new way of working not only saves a lot of time (traveling time, small talk, etc.), it also gives you the option to add colleagues to a meeting regardless of where they are physically - and this on a very short notice and need-to basis, something that is not possible with physical meetings!
In addition, you also work with a team that has years of experience in app and graphic design, and has learned from courses from the Interaction Design Foundation and the Baymard Institute.
App design process
Mobile app projects usually start with a comprehensive project plan, created by the technical project manager. This project plan describes all the app specifications, including all the different screens within the app, such as the login/signup screen, home screen, notifications, camera features, social media sharing etc.
Technology choice for app development (native or cross-platform) as well as backend and hosting likewise forms part of the project plan.
Once the project plan is finalized and approved, we assign one or more designers to work on the project.
We then conceptualize the right design for the app based on your intended purpose for it. Next, we create mockups for the different screens listed in the project plan.
Once the initial mockups are finished, we give you access to a prototype app which you can try on a mobile device.  Note: The prototype has no functionality, it strictly allows you to navigate the app and get a feeling for how the finished product will be like.
We consider whether the app is for Android, iOS, or both (as determined during the project planning phase). These operating systems come with their own design styles, and we need to take those differences into account when we design the app's interface.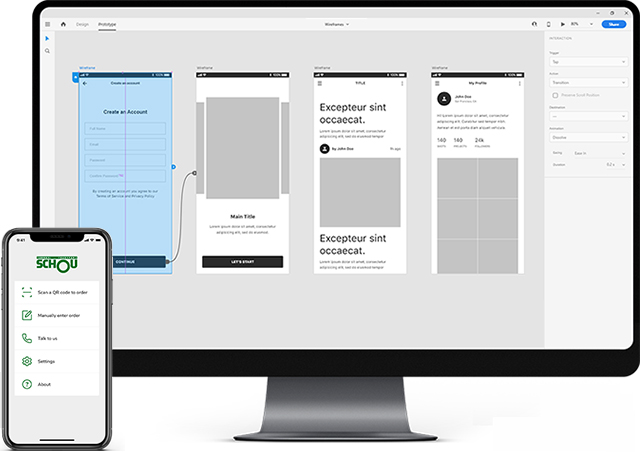 Important elements of app design
Planning and conceptualization - Our design team gets involved right from the start of the project, offering inputs from a UX perspective during the project planning stage and helping you conceptualize the overall theme of the app.
Native or cross-platform - The design process is the same whether you are developing the app natively or using a cross-platform tool like .NET MAUI (Xamarin) .
App screen design - We create mockups for the major screens of your app, designing them with user experience in mind and according to research-backed standards by Baymard Institute.
Logo, controls and icons - We also design other elements for your app, making sure they are coherent with the theme and purpose, and that they are easy to use for all users.
Promotional graphics for the app store - Aside from the app itself, we can also design the promotional graphics for Google Play and/or Apple App Store (optional).
App website - We can design and develop an informational WordPress website where potential users can read about the app and its features before downloading it. It can also help your app gain more exposure if you do some SEO on the site, so it can appear in Google search results.
View our prices
An error has occurred with your entry. Please update and try again.