Estimated reading time: 6 minutes
On-page website surveys and feedback widgets are extremely helpful tools in any mission to understand user behavior.
What better way to get answers to your burning questions about your website (Do my users like the new design? Is this page useful?) than directly asking your visitors?
Website surveys come in different forms (pop-ups, on-page widgets, dedicated pages, etc.), but the common goal is to go beyond guesswork and get some insight on what your users are thinking—directly from the users themselves.
(A sample feedback survey that we run on our websites through Hotjar. Responses to this question help us structure our content so they can be found easier, or get ideas on article/blog topics that we can publish next.)
Why should you use website feedback tools?
The question, really, is: why shouldn't you?
At worst, people will ignore you, but at best, you get valuable insights that you wouldn't get from quantitative analytics tools like Google Analytics or even heatmaps and session recordings.
Here are two main reasons why you should use website feedback tools:
1. You have questions that even the best analytics tools couldn't answer.
Consider this: Your ecommerce website is live and getting some traffic.
Potential customers are visiting different product pages and adding items to their cart.
Yet, there are fewer successful purchases than you would have expected (or liked).
Heatmaps are not showing anything out of the ordinary, and there's no pattern that pops out of the many session recordings you've replayed.
When insights from other analytics sources don't tell you enough (or anything), directly asking users for feedback may be the only way to find out what's not working.
Feedback surveys are not meant only as a last resort, though—utilized together with your heatmaps and session recordings, you can get a full view of the user experience that will enable you to make smarter assumptions and in turn, smarter decisions.
For example, you may assume from a heatmap that your landing page has way too many distracting elements keeping your visitors away from the important CTA, but a surveyed visitor may tell you that it's actually because your content doesn't contain enough information for users to decide if they want to take the next step.
2. Asking for feedback shows that you care about what your users think—which you do, don't you?
The whole point, after all, of getting started with user behavior analytics is to better understand your users' needs and wants, and as a result, offer them a better version of your products or services.
Not all users may be willing to participate in your surveys, but the few who will can tell you things about your website or webshop (and even about your business in general) that may surprise you.
These users who are willing to share their thoughts probably appreciate it as well that you spend the effort to ask for them in the first place.
Website feedback survey types and when to use them
There are different types of website surveys that you can set up on your site depending on what you want to know or which set of users you want to hear from.
It's important to define the purpose for your survey first so that you don't bombard users with all the questions you have regardless of relevance to their browsing journey.
1. Exit intent pop-ups.
Exit intent pop-ups are often used for capturing leads before users click away from your site, but they're perfect for presenting your survey questions, too.
These pop-ups appear on a web page when triggered by a signal that a user is about to exit—like moving the cursor to the upper right to close the tab or window.
These triggers can only be captured on desktop, though, since it's hard to determine exit intent on a mobile phone.
Exit intent pop ups are best for finding out missing content or elements that make users leave, barriers that prevent them from converting, or even whether the visitors that you're getting are the right target audience you're going for.
2. Page-specific surveys.
Not all of your users come to your website with one common goal—some may already be intent on purchasing, some just browsing around, and others still may be existing customers just looking for help with your product or service.
With page-specific surveys, you can address relevant questions to your users depending on where they are on your website (and on their browsing journey).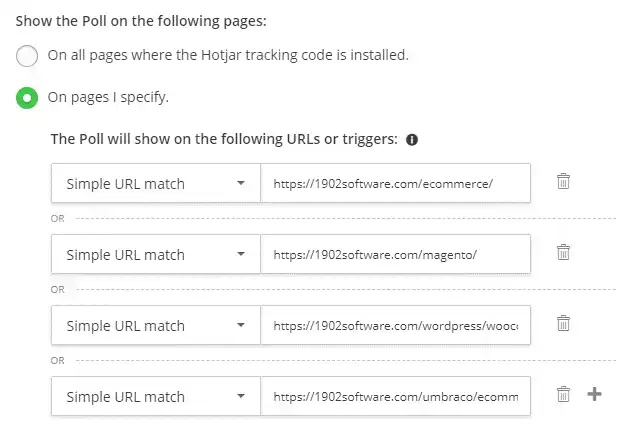 (A sample setting for a Poll setup in Hotjar—if we want to get feedback from customer prospects for ecommerce, we can set up a page-specific survey that will only show to ecommerce related pages)
3. Dedicated feedback pages.
If you don't want any pop-ups to distract your website visitors as they're browsing through your pages, you can simply set up a dedicated feedback page that you can link to from all your other landing pages.
Though this page may not be as effective as getting responses compared to exit intent pop-ups or page-specific surveys, you at least have a dedicated place for users who you want to provide feedback about their experience on your website.
Website survey in action
We recently did a revamp of our website menu to better emphasize our main services—ecommerce, website, and custom software.
Though the service pages were the focus of this revamp, some of the pages in the menu were unknowingly lost in the shuffle—like our address and contact information page.
It wasn't until we ran the feedback survey as shown in the sample above that a website visitor informed us they had a hard time finding our email address (which was in the contact information page buried under the Who We Are menu).
The insight from this specific survey response is something that we wouldn't have seen in a heatmap and maybe only barely from a session recording.
Keep in mind that when you work a lot on your website, it's a challenge to see things out of place because you're looking at a layout that you've already seen a thousand times before.
So far, we've talked about gathering data about your user behavior through heatmapping, session recording, and website feedback surveys.
With all the newly found (or confirmed) insights you got about your users, what's next?
The last method in user behavior analytics we'll be discussing is A/B and split testing, where you get to apply what you've learned in the previous three methods, test your assumptions, and gain more insight as you continue to collect and analyze your data.
Next: A/B testing: make website decisions backed by user data »