On-page website surveys and feedback widgets are extremely helpful tools in any mission to understand user behavior.
What better way to get answers to your burning questions about your website (Do my users like the new design? Is this page useful?) than directly asking your visitors?
Website surveys come in different forms (pop-ups, on-page widgets, dedicated pages, etc.), but the common goal is to go beyond guesswork and get some insight on what your users are thinking—directly from the users themselves.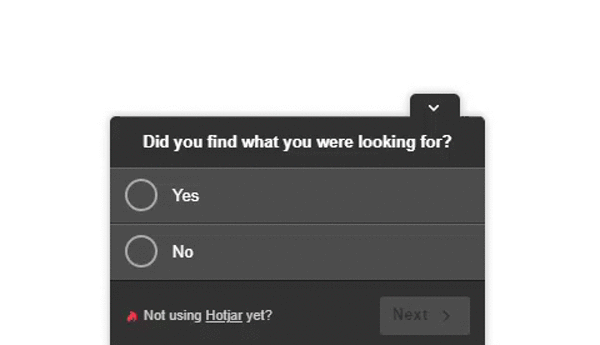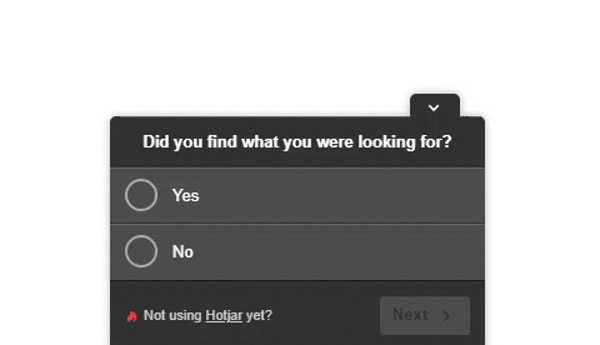 (A sample feedback survey that we run on our websites through Hotjar. Responses to this question help us structure our content so they can be found easier, or get ideas on article/blog topics that we can publish next.)
Why should you use website feedback tools?
The question, really, is: why shouldn't you?
At worst, people will ignore you, but at best, you get valuable insights that you wouldn't get from quantitative analytics tools like Google Analytics or even heatmaps and session recordings.
Here are two main reasons why you should use website feedback tools:
1. You have questions that even the best analytics tools couldn't answer.
Consider this: Your ecommerce website is live and getting some traffic.
Potential customers are visiting different product pages and adding items to their cart.
Yet, there are fewer successful purchases than you would have expected (or liked).
Heatmaps are not showing anything out of the ordinary, and there's no pattern that pops out of the many session recordings you've replayed.
When insights from other analytics sources don't tell you enough (or anything), directly asking users for feedback may be the only way to find out what's not working.
Feedback surveys are not meant only as a last resort, though—utilized together with your heatmaps and session recordings, you can get a full view of the user experience that will enable you to make smarter assumptions and in turn, smarter decisions.
For example, you may assume from a heatmap that your landing page has way too many distracting elements keeping your visitors away from the important CTA, but a surveyed visitor may tell you that it's actually because your content doesn't contain enough information for users to decide if they want to take the next step.
2. Asking for feedback shows that you care about what your users think—which you do, don't you?
The whole point, after all, of getting started with user behavior analytics is to better understand your users' needs and wants, and as a result, offer them a better version of your products or services.
Not all users may be willing to participate in your surveys, but the few who will can tell you things about your website or webshop (and even about your business in general) that may surprise you.
These users who are willing to share their thoughts probably appreciate it as well that you spend the effort to ask for them in the first place.