When Google rolls out an update in any of their various platforms, it's probably something worth looking into. In this month's roundup, we've gathered the latest relevant updates, from search and structured data to ads conversion measurement, that you need to know as a business owner.
Page Experience algorithm update
Page experience is a new search ranking factor that Google first introduced late last year. It was originally slated to begin rolling out in May 2021, but has been postponed to mid-June 2021. By the end of August 2021, this update will have fully rolled out in these systems.
In a nutshell, page experience focuses on four pillars of the user experience: loading, user annoyance, security and privacy, and accessibility.
The first two are quantified using what they call the "Core Web Vitals" — Largest Contentful Paint, First Input Delay, and Cumulative Layout Shift — three new metrics that measure loading performance, interactivity, and visual stability respectively. We've covered these metrics in detail in our blog on the 2021 SEO landscape and 4 updates that you shouldn't miss.
In line with this upcoming change, Google has also introduced a new Page Experience Report in Google Search Console.
Aside from the earlier Core Web Vitals menu, you can now also access a more holistic overview of how each page in your website is faring in terms of page experience, including security issues, HTTPS usage, and mobile usability. It also provides data on the percentage of URLs that offer a good page experience, which helps you determine a starting point for your optimization efforts.
Currently, this report only considers mobile users and affects mobile searches; however, Google announced in their recent I/O session that page experience ranking is coming to desktop as well.
While there are no further details about this news yet, we advise that you start optimizing your website for the above factors, in both mobile and desktop, as early as now. If you need technical assistance, our team can help with our extensive experience in doing SEO and speed optimization for various websites. Contact us to learn more.
Top Products Carousel
When searching for products online (or anywhere else, really) users are naturally on the lookout for the best-in-class. With the huge amount of information on the Internet about "the best" and "top rated" products though, it can be hard to determine which tells the truth and which are just empty sales talk.
Google's recent update on Search helps with this issue. Top Products Carousel is a new SERP (search engine results page) feature, which appears when a user searches for a product type (even when they don't necessarily qualify "best" or "top" in their search terms).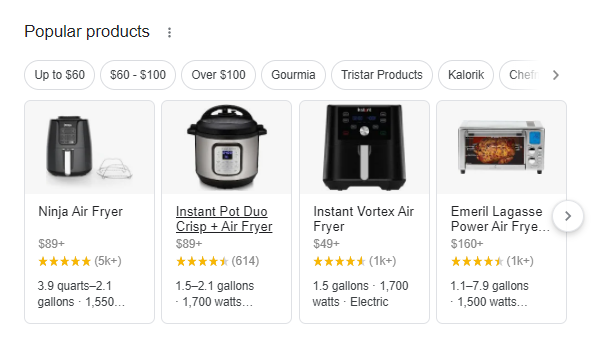 The information usually included in this carousel are:
Product name and image
Average rating (numerical value or stars)
Approximate # of ratings
Key product features and keywords
Scrollable list of cards that contain reviews from different sources and more information about the product
There is still little information about the factors that play into this new SERP feature i.e., how you can get your product included, but according to Andrew Shotland of Local SEO Guide, Google probably uses some version of its organic ranking algorithm to assign authority to reviews across the web, with most common review sources so far being traditional media-brands and known review sites.
Schema or structured data likely plays a role in it too, as product and review content tagged using schema definitely makes it easier for Google to find and display this information.
If you're a retailer or an ecommerce site, this is something that can help increase click-through rates for your product pages. For ideas on how you can optimize for this, check out this detailed article from Search Engine Journal.
Google search gallery
Speaking of structured data — if you still haven't implemented it in your website yet, we highly encourage you to start now. It's basically a piece of code used to markup your web page content in order for search engines, especially Google, to understand what your page is about.
On its own, structured data won't exactly improve your ranking in search results. However, it allows your website to be featured in rich snippets, which in turn will help improve your visibility on a search results page. To learn more about this, check out our blog on 15 schema types you can use to get rich snippets.
Considering the many types of structured data you can use, it can be daunting at first to begin implementing it in your site. To help you start, check out Google's search gallery, a list of different rich snippets and the types of structured data that you can implement. There is also an option to filter the list based on your website type, so you can focus on the ones that will be most relevant to your business.
If you need help implementing schema on your website, contact us and a project manager will be happy to assist you.
Conversion modeling through Consent Mode
Earlier this year, we talked about Consent Mode and how it helps website owners continue some of their tracking while at the same time respecting user consent. Following up on this initiative, Google announced last April that they have started with conversion modeling in Google Ads using Consent Mode.
Conversion modeling helps in recovering attribution between ad clicks and conversions that are measured in Google Ads. According to Google, early results from their tests have shown that more than 70% of click-to-conversion journeys that are otherwise lost due to cookie restrictions and user's consent choices have been recovered using this method.
To be clear, conversion modeling does not create or record new conversions, it simply helps in filling in the blanks, i.e., connecting clicks to conversions that have already happened. (It's not a case of "a conversion probably happened here", but more like "this click probably led to this conversion".)
To do this, Google uses machine learning — analyzing historical trends and what observable data there is, and using data about user journeys where the user has actually consented to cookies to fill in modeled attribution paths from unconsented users.
This modelling is made possible by Google's access to a wide range and variety of ad interactions across different channels and from many of their Ads customers, as well as data from users who are signed in to their Google accounts while browsing the web.
Most advertisers already have access to data from modeled conversions, but Google states that for some users where there aren't enough conversions observed on a regular basis, attribution may not be confidently modeled. Learn more about this here.
Disregarded meta descriptions
This one's not exactly new, but in case you aren't aware yet — did you know that Google disregards a page's meta description 63% of the time for those in the SERP's top 10?
With Google's increasing focus on determining user intent and providing smarter search results, this is hardly a surprise. When the meta description you've set in your site's code or SEO tool doesn't exactly match a user's query, Google will instead skim your page for a more relevant text snippet and show it instead.
In theory, this of course allows for a higher click-through rate as users are more likely to visit a page when they determine from the search results description that the page matches what they're looking for. It could be a bit of a letdown if you've spent a lot of time crafting your page descriptions, but note that Google will optimize the descriptions they display to the user's search query, which will provide you a better click-through rate over time.
There isn't anything that you can do to force Google to display your own meta description all the time, so the best course of action is to simply create content with the user in mind — make sure that the entirety of your content is relevant and is tied to your page's main topic. This way, no matter which snippet Google decides to take from your page, you can be certain that it's something that a user will want to click on.
Still, this doesn't mean that you should disregard your meta descriptions altogether. Make sure that it's still well optimized in the event that Google does decide to honor it in the search results:
160 characters is often used as the standard figure for meta descriptions, but there are recent factors that you may want to take into account when writing them — such as the publishing date rich snippet feature that adds the date before the description for blog pages. So if you're writing a blog post, the space left in the SERP will probably be just around 105 (for mobile) and 138 (for desktop). That means you should probably keep the most important stuff in your first 100 characters.
Learn more about optimizing your meta descriptions (and titles) in our Content SEO blog.
We hope you found these updates useful and relevant. If you have certain topics in mind that you want us to cover in the next month's roundup, feel free to contact us.
For your design and development needs, check out our prices and discover how much you can save.