Estimated reading time: 15 minutes
SEO or search engine optimization refers to the strategies and techniques implemented on a website or webshop that overall improve its ranking in search results.
SEO has two aspects: technical and content.
Technical SEO refers to practices behind the scenes—setting up your website or webshop so that its pages can be crawled and indexed by search engines, getting the right meta tags and other SEO settings in place, and others that typically require the help of a developer or at least some technical knowledge to implement.
On the other hand, content SEO deals with what's visible to your visitors—from your page's snippet in search results to the actual content they would see when they land on your website.
It involves balancing between  search engines' ranking algorithms and being relevant to what your target audience is looking for.
Technical SEO is objective and based on universal standards set by search engines; content SEO highly depends on the specific audience and usually requires knowledge of the local culture and language expertise.
In this guide, we'll explore the three main aspects of Content SEO:
How to do keyword research for SEO
Keywords refer to the search terms that you want your page to appear or rank for in search results.
They can be broad, one-word terms like "website" (called head keywords), or specific longer phrases like "WordPress website development company" (called long tail keywords).
Keyword research is a key process in SEO, since this is your starting point for optimizing your content.
When done properly, keyword research not only helps you rank well, but actually rank for the right keywords that will get you seen by the right audience.
If you're creating a new website or webshop, you can do a keyword research for the whole site so that you have a solid content structure right from the beginning. On the other hand, if you're optimizing an existing site, you can simply analyze your current pages for content gaps and start doing keyword research for those and any new pages you plan to publish.
Regardless, here's a general process that you can follow:
Prepare a list of keyword ideas.
Start with listing down the main topics or ideas for your page, which will serve as the basis for your further research.
For example, when we were planning our blog on schema, we started with the keywords "schema", "rich snippets", and "rich results", since we wanted to write about schema in light of how it can boost your search engine ranking with the help of rich results.
Find related keywords using keyword research tools.
Sometimes, your target audience may think about topics in certain words or phrases that are different from how you usually call them.
Using keyword research tools, you can refine your initial list of keyword ideas by discovering the search terms that people are actually using.
At this stage, you can also discover related keywords relevant to your page that you haven't thought of before.
There are many tools available online that you can use to do keyword research. If you have a Google Ads account, you can use the free keyword planner in their toolset.
How to use Google Keyword Planner
1. Sign in to your Google Ads account and go to Tools & Settings > Planning > Keyword Planner.
2. Select Discover new keywords > Start with keywords.
Type in one of your initial keywords and configure the language and location settings (you can change these later).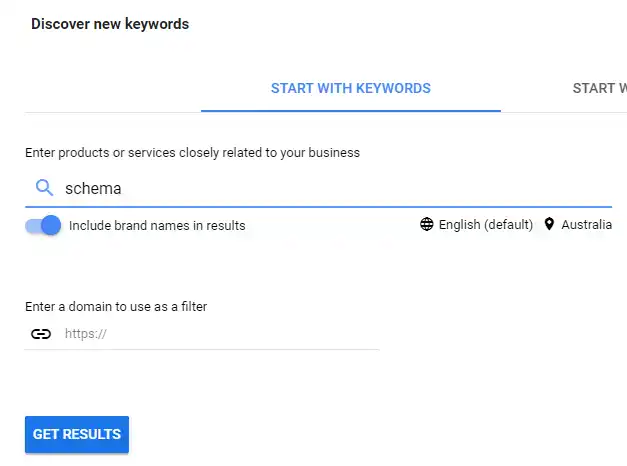 3. On the results page, you can see a list of related keywords along with other data such as average monthly searches, competition, etc.
Since Google's keyword planner is originally intended for planning paid keywords, much of the data in the columns are related to Google Ads.
Typically, you will only have to look at the "Avg. monthly searches column".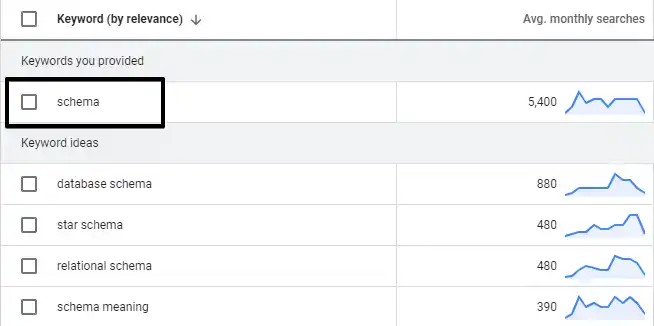 (Looking at this list, we can conclude that "schema" alone is a very broad keyword and probably not the best fit for what the article is about.)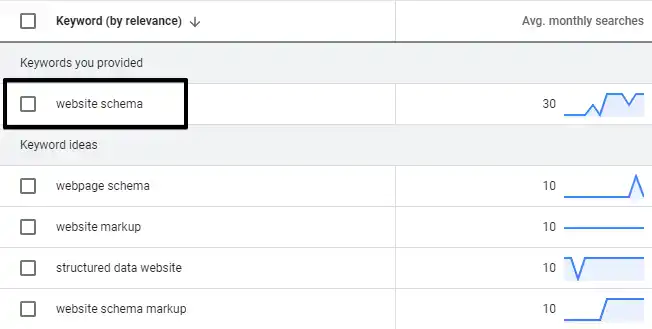 (Changing the keyword to "website schema" returns a list of keywords that are actually relevant to the subject of our article.)
4. From the results, you can then start to take note of keywords that are interesting for you.
Take note of the average monthly searches, or search volume.
Naturally, most would like to target the keywords with the highest search volume, but these keywords also tend to be the ones with more websites competing for ranking.
Lower search volumes may help you rank easier and faster, but too low of an average may just be a waste of time on your part.
Ultimately, the ideal search volume will vary depending on your business and goals.
One way that you can put the numbers into perspective is by asking yourself if you'll be satisfied if the number of average monthly searches is also your monthly traffic for that page.
If you're targeting a niche keyword, a highly specific phrase or term that really describes your website or at least the page that you're optimizing, then even a very low search volume can probably get you more leads than a broad keyword with thousands of monthly searches.
5. You can further expand your keyword list by searching for more related keywords to the related keywords you first found, and so on until you have a sizeable list of keywords you can target.
6. Start refining your list by actually searching for the keywords you've gathered on Google.
This will show you what pages are currently ranking for a specific keyword, and will give you an idea on whether it's actually fit for the topic of your page.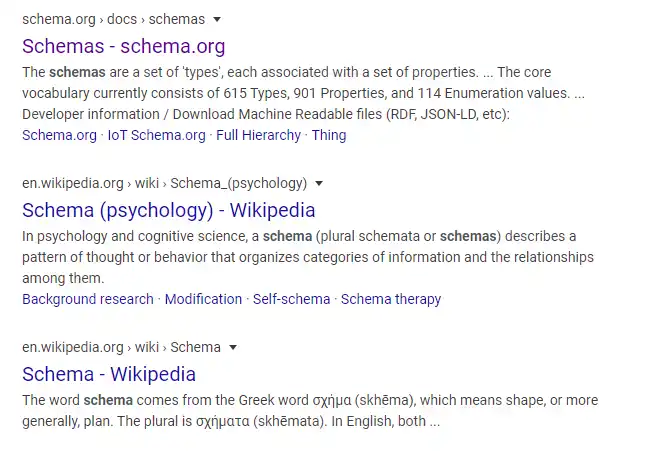 (Searching for "schema" gives understandably varied results. This will not be a good keyword for our article since 1) bigger and more popular websites are already ranking and will be hard to beat, and 2) it's hard to gauge what the user is actually trying to find with this broad keyword, and the chances are, our article will not be the right fit for this search.)
Note: If you want to target internationally or a different country, it's best to use a VPN or virtual private network set to the country you're targeting so that you can see the same results that someone from that location will likely see.
7. Finalize your list of keywords and decide on a focus keyword, or the best one in your list (i.e., the most relevant with the ideal search volume) that will be the primary keyword you will use in your page.
Other keyword research tools.
If you don't have a Google Ads account, there are plenty of other keyword research tools (both paid and free) that you can use:
1. Keywords Everywhere – This is a Chrome extension that shows you keyword data right on Google's search results pages.
Data on related keywords is free, but you have to purchase credits to get premium information such as monthly search volume, average CPC, and competition (for Google Ads).
2. Ubersuggest – This is an alternative tool to Google's Keyword Planner that's free to access (you can also sign in with your Google account to unlock more features).
Aside from keyword research, this tool also offers website traffic and SEO audit.
3. Moz Pro – This is Moz' premium SEO suite with an "all-in-one" toolset that can help you with keyword research and getting other SEO insights.
4. SEMrush – This is a marketing toolkit that provides a platform for finding keywords, as well as other tools for PPC, content, and social media management.
Writing optimized content
Even if you've found the most ideal keywords for the niche you're targeting, your pages are still unlikely to rank if you have subpar content.
Here are some tips on how you can write and structure optimized pages:
Page title and description
Having the right page titles and page descriptions is crucial to your SEO—first because these serve as primary indicators of what your page is actually about to Google's crawlers, and second because these are also what potential site visitors first see about your page when they're on a search results page.

(A sample of how a page title and description may appear in Google search results.)
Ideally, your focus keyword for a page should be in both your page title and description—but avoid simply stuffing keywords in the text in hopes of ranking better.
Aim for a readable and catchy title and description that accurately describe what the page is about, while still incorporating the right keywords, to make sure that real (and interested) people click on your page.
Note: In some instances, Google may not use the page description you've set and instead pull a section of your content that's more relevant to the user's query, like in this example:

Page titles and page descriptions are limited to certain pixels as they appear on a search results page, so you have to watch the length of your text to make sure that it's not truncated when it appears on Google search results.
Typically, it's best to limit yourself with 60 characters for the page title, and 120 characters for the page description.
Page body
In the early days of search engines, you used to be able to rank just by stuffing keywords as much as possible in your content.
This resulted to many website pages being borderline unreadable and just looking spammy to actual human readers.
Now that search engines are smarter, this technique can get you penalized and actually result to lower ranking (or worse, being removed from search results altogether).
The key is to strike a balance between using your keywords and writing content that's interesting, informative, and engaging for your target audience.
The keywords' placement in your text shouldn't feel unnatural and obviously inserted, but instead like it fits perfectly with the topic you're writing about.
If you're using the right keywords that are actually relevant to your subject, then this shouldn't be much of a problem.
If you feel that you can't write your keywords into your content naturally, then you either have to do another keyword research or re-evaluate your topic to make sure that the two are properly aligned.
SEO tools that help in optimizing content
1. Yoast SEO – Yoast is a popular WordPress plugin that can help you audit your content in terms of SEO best practices.
This tool analyzes your text and provides warnings and recommendations on what you can improve upon, like the length of your content and whether your focus keyword appears enough times in the text, etc.
2. 1902 SEO+ - This is a free SEO package that we developed for Umbraco CMS.
Like Yoast, this tool simplifies doing SEO for your website by providing an intuitive and user-friendly interface where you can manage your page titles, descriptions, and other SEO settings.
Duplicate content
In SEO, "duplicate content" refers to two or more pages that have the same content but with different URLs.
In the early days of the web, many sites took advantage of this tactic to trick search engine crawlers into thinking they have more content than they actually do in order to get more pages indexed and in effect, get more visitors.
Duplicate content occurs when you intentionally create a copy of a page or if you have a technical error, such as when URL parameters like Google Analytics tracking accidentally turn each URL into duplicates.
Duplicate content can confuse search engines on which version to actually rank and display for user searches.
To solve this, you can assign a "canonical URL", which basically tells Google that the canonical page is the "master copy" which should be indexed, and to ignore any URLs with the same content.
What is link building?
Link building is basically the process of getting links that point to your website pages to increase visibility and ranking in search engines.
Link building can be external (i.e., acquiring links from other websites pointing to your pages) or internal (i.e., building links from within the pages on your site).
External link building
When a website with high page authority links to your page, it's a signal to search engines that your website must be of good quality as well.
External link building is the practice of acquiring links from these reputable websites in order for your own authority as a website to increase (primarily in search engines' eyes) as well.
External link building can also help increase referral traffic to your pages, especially if the website linking to your pages get a huge number of visitors or readers regularly.
Therefore, avoid "building links" in spammy blogs or websites, but instead seek partnership with high-quality websites that are relevant to your industry.
Internal link building
Building links between your own pages helps in a lot of ways—first, visitors can better navigate your site when you have links guiding them to related pages, and second, internal linking helps Google determine which pages are of higher importance within your site (e.g., if more links are pointing to certain pages).
Internal link building can also help with lowering your bounce rate—with internal links located throughout the site, visitors are better encouraged to explore your site further instead of clicking away when they're done with their current page.
Take care, though, that you don't get carried away with linking every single part of your content.
Only add links when they make sense and are actually relevant—overcrowding your pages with links can only distract your visitors or readers from the current content.
Follow vs nofollow links
Link building primarily distinguishes between so-called "follow" (or "dofollow") and "nofollow" links.
Follow and nofollow are link attributes that tell Google's crawlers how to handle the value of a link from one page to another (i.e., whether Google should "transfer" the PageRank of the source page to the page that it's linking to).
A follow link means the PageRank value is transferred (in whole or in part—depends on who you ask) from page "A" (source) to page "B" (linked page).
In other words, the link coming from A to B can help improve B's ranking in search results. If page A has multiple links within the page, the PageRank value is shared among these links.
By default, links are set to follow, which means that your page's value is automatically transferred to the other pages you're linking to without any action on your part.
There are some cases, though, where you would need to link to an external site within your content, but not necessarily want to pass that "signal". Or you're linking to multiple pages but only want to pass the "link juice" to a certain page.
This is what nofollow links are for.
Nofollow is an HTML attribute that you add to a link (written as rel="nofollow"), explicitly telling search engines to not pass any PageRank to the link.
This means that no value is transferred from page "A" to page "B", so the link coming from A to B does not improve B's ranking in search results. The value of the link coming from A is only measured in the number of visitors that B receives from A.
In most CMS systems, there's a setting like a checkbox that you can check or uncheck (follow or nofollow) when adding a link.
Aside from follow and nofollow, there are two other less used link attributes: rel="sponsored" for paid links or links used for advertising, and rel="ugc" for links within user-generated content, such as forum posts, etc.