Keywords refer to the search terms that you want your page to appear or rank for in search results.
They can be broad, one-word terms like "website" (called head keywords), or specific longer phrases like "WordPress website development company" (called long tail keywords).
Keyword research is a key process in SEO, since this is your starting point for optimizing your content.
When done properly, keyword research not only helps you rank well, but actually rank for the right keywords that will get you seen by the right audience.
If you're creating a new website or webshop, you can do a keyword research for the whole site so that you have a solid content structure right from the beginning; on the other hand, if you're optimizing an existing site, you can simply analyze your current pages for content gaps and start doing keyword research for those and any new pages you plan to publish.
Regardless, here's a general process that you can follow:
Prepare a list of keyword ideas.
Start with listing down the main topics or ideas for your page, which will serve as the basis for your further research.
For example, when we were planning our blog on schema, we started with the keywords "schema", "rich snippets", and "rich results", since we wanted to write about schema in light of how it can boost your search engine ranking with the help of rich results.
Find related keywords using keyword research tools.
Sometimes, your target audience may think about topics in certain words or phrases that are different from how you usually call them.
Using keyword research tools, you can refine your initial list of keyword ideas by discovering the search terms that people are actually using.
At this stage, you can also discover related keywords relevant to your page that you haven't thought of before.
There are many tools available online that you can use to do keyword research. If you have a Google Ads account, you can use the free keyword planner in their toolset.
How to use Google Keyword Planner
1. Sign in to your Google Ads account and go to Tools & Settings > Planning > Keyword Planner.
2. Select Discover new keywords > Start with keywords.
Type in one of your initial keywords and configure the language and location settings (you can change these later).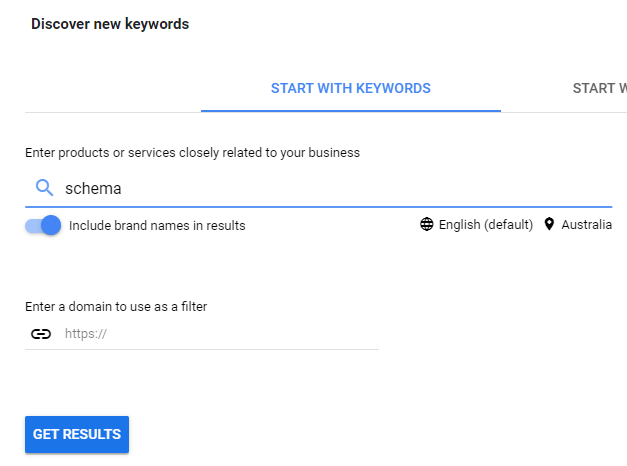 3. On the results page, you can see a list of related keywords along with other data such as average monthly searches, competition, etc.
Since Google's keyword planner is originally intended for planning paid keywords, much of the data in the columns are related to Google Ads.
Typically, you will only have to look at the "Avg. monthly searches column".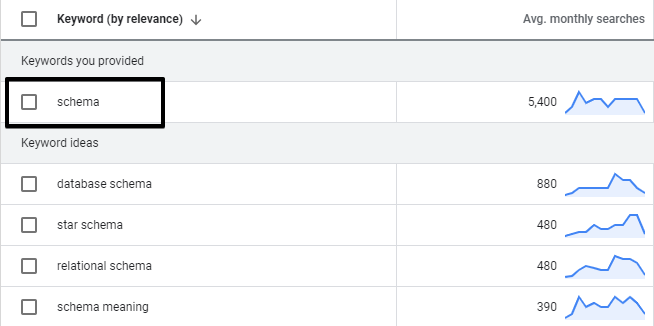 (Looking at this list, we can conclude that "schema" alone is a very broad keyword and probably not the best fit for what the article is about.)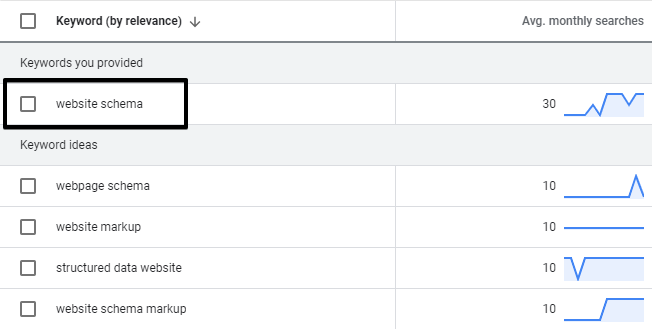 (Changing the keyword to "website schema" returns a list of keywords that are actually relevant to the subject of our article.)
4. From the results, you can then start to take note of keywords that are interesting for you.
Take note of the average monthly searches, or search volume.
Naturally, most would like to target the keywords with the highest search volume, but these keywords also tend to be the ones with more websites competing for ranking.
Lower search volumes may help you rank easier and faster, but too low of an average may just be a waste of time on your part.
Ultimately, the ideal search volume will vary depending on your business and goals.
One way that you can put the numbers into perspective is by asking yourself if you'll be satisfied if the number of average monthly searches is also your monthly traffic for that page.
If you're targeting a niche keyword, a highly specific phrase or term that really describes your website or at least the page that you're optimizing, then even a very low search volume can probably get you more leads than a broad keyword with thousands of monthly searches.
5. You can further expand your keyword list by searching for more related keywords to the related keywords you first found, and so on until you have a sizeable list of keywords you can target.
6. Start refining your list by actually searching for the keywords you've gathered on Google.
This will show you what pages are currently ranking for a specific keyword, and will give you an idea on whether it's actually fit for the topic of your page.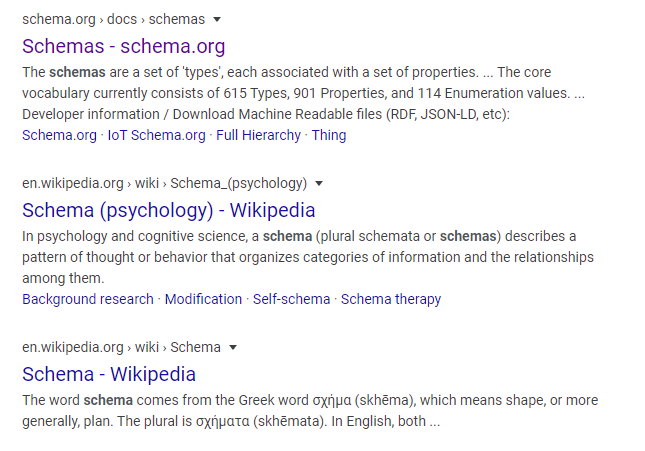 (Searching for "schema" gives understandably varied results. This will not be a good keyword for our article since 1) bigger and more popular websites are already ranking and will be hard to beat, and 2) it's hard to gauge what the user is actually trying to find with this broad keyword, and the chances are, our article will not be the right fit for this search.)
Note: If you want to target internationally or a different country, it's best to use a VPN or virtual private network set to the country you're targeting so that you can see the same results that someone from that location will likely see.
7. Finalize your list of keywords and decide on a focus keyword, or the best one in your list (i.e., the most relevant with the ideal search volume) that will be the primary keyword you will use in your page.
Other keyword research tools.
If you don't have a Google Ads account, there are plenty of other keyword research tools (both paid and free) that you can use:
1. Keywords Everywhere – This is a Chrome extension that shows you keyword data right on Google's search results pages.
Data on related keywords is free, but you have to purchase credits to get premium information such as monthly search volume, average CPC, and competition (for Google Ads).
2. Ubersuggest – This is an alternative tool to Google's Keyword Planner that's free to access (you can also sign in with your Google account to unlock more features).
Aside from keyword research, this tool also offers website traffic and SEO audit.
3. Moz Pro – This is Moz' premium SEO suite with an "all-in-one" toolset that can help you with keyword research and getting other SEO insights.
4. SEMrush – This is a marketing toolkit that provides a platform for finding keywords, as well as other tools for PPC, content, and social media management.