Read or listen to our latest blogs about software projects.
Web hosting
Launching a new website or webshop? In this blog, we talk about what web hosting is and the different types of hosting available for you. We also discuss why you should never buy hosting from your web developer, and provide links to our recommended hosting providers.
Full stack developer
Learn what a full stack developer is, and how it compares with what we call a "full stack development solution" at 1902 Software.
Upgrading and updating of CMS and apps
Websites, webshops, and apps need to be updated from time to time for security patches or when new operating system versions are released. Learn about the things you need to consider before an upgrade / update and our standard process for doing them in this blog.
Upgrading and updating of CMS and apps »
What's new in digital marketing?
Expanded Access to AR Try-on ads for Facebook and Instagram
In our March-April roundup, we talked about the emerging trend of using AR or Augmented Reality in ecommerce.
AR allows you to enhance the buying experience in so many ways, letting customers engage with the product — from interacting with a 3D model or virtually trying on things like eyeglass frames and lipstick shades, to envisioning the product in real-life settings using the camera — and making it easier for them to shop online.
AR ads have been available for a while now on Facebook, but not every brand has the resources to make the most of it. So last June, Facebook announced that they are making it more cost-effective for businesses to utilize AR by offering new APIs that will let advertisers import assets directly to Facebook.
As of now, this is still in testing with select beauty brands, but Facebook is planning to expand to home decor in the near future.
Running out of campaign and ad ideas?
Facebook's new Campaign Ideas Generator may help. All you have to do is select your industry and targeted time of the year (e.g., holidays, if applicable), and Facebook will give you tailored campaign ideas — from possible targeting options all the way to suggested ad copies.

Aside from this, you can also explore related insights and resources that can help you further optimize your campaign. For Retail and Ecommerce, Facebook is also testing a "ready to go ads" feature that provides advertisers with pre-made ad text as well as media assets to use as a starting point for their campaigns.
In fact, even right within Ads Manager, Facebook has already added a "Text suggestions" feature that pops up when writing your ads, generating ideas from data on your own past ads.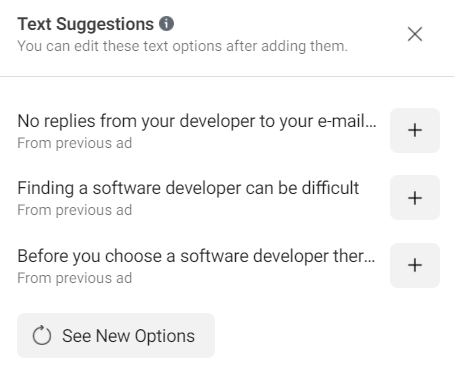 iOS 15 - More privacy updates, less chances for personalization
Following the AppTrackingTransparency Framework that was introduced in iOS 14 (which we've also covered in our March-April roundup), Apple announced more privacy updates that come with the iOS 15 release.
1. Mail Privacy Protection (MPP) - MPP hides a user's IP address, further blocking apps from tracking online activity. It also prevents email senders from seeing if and when a user has opened their email.
2. Hide My Email - Hide My Email is a feature that's part of the new iCloud+, which allows users to instantly generate unique and random email addresses that are forwarded to their personal inbox.
How do these updates affect marketers?
Like with the increasing cookie restrictions, these new updates may affect the data that you get and use to optimize your ad campaigns.
For example, since MPP blocks tracking of email opens, this means that you can probably no longer rely on unique open rates statistics for your emails and newsletter campaigns (at least, for mobile).