1902 SEO+ FAQs and guides
This page contains general guides and answers to common questions about 1902 SEO+.
For help about features or how to use the package, read the tooltips '

' for each item on your 1902 SEO+ dashboard and tabs. If you have other questions about the package that are not covered here, send us a message at [email protected].
Information about the package
What is 1902 SEO+?
1902 SEO plus is a free to use Umbraco package developed by 1902 Software to help Umbraco website owners or managers to easily manage your site's technical SEO settings.
How does 1902 SEO+ help with my website's SEO?
1902 SEO plus makes your SEO management easier by taking care of the technical stuff in the background while you focus on your content. Instead of manually coding the SEO tags to your website, all you have to do is input some text, choose from some dropdowns, and check some boxes.
You will also get actionable insights and recommendations on improving your site's performance and technical SEO that are based on known best practices.
I'm already doing SEO on my website; will 1902 SEO+ be able to copy/import my existing settings?
YES. Upon installation, 1902 SEO plus will scan all pages in your website to copy your existing SEO settings and import them into the system. You won't have to start from scratch or manually update all your pages.
However, you will need to remove your old settings after 1902 SEO plus is done with the import to avoid duplicate tags. Read more about this in the Installation section below.
Why does 1902 SEO+ need to scan the website upon installation?
1902 SEO plus needs to scan all pages in your website in order to copy and import any existing SEO settings that you may have. This is done so that you don't need to manually update all your pages, which on a big website can be a daunting task.
What happens during the scanning?
The scanning process will copy and import your existing SEO tags such as titles, meta descriptions, meta robots, canonical, Twitter card details, open graph details, structured data, etc.
If you happen to have duplicate tags (e.g., a page may have a title tag inserted by your current SEO package and another title tag that is hardcoded), 1902 SEO plus will only copy the first instance of the tag that it has encountered.
The process will run in the background and may take a while depending on the number of pages that you have.
What happens after the scanning?
When the scanning has been completed, you will be given a confirmation message that 1902 SEO plus has successfully copied and imported your existing SEO tags.
You will also be given a summary report (CSV file) that you can download. This report shows all the pages in your website that have been scanned and the SEO tags that 1902 SEO plus has found within these pages (including duplicates). Learn more about how to use the summary report here.
Why is 1902 SEO+ not enabled after the scanning?
1902 SEO plus will be disabled by default after the scanning and importing of your existing settings. This is because 1902 SEO plus, once enabled, will insert its own SEO tags (using the settings that were scanned and imported) to your site, which would then result in duplicate instances of SEO tags.
(Learn why duplicate tags can be harmful for your SEO here.)
What do I need to do before enabling 1902 SEO+?
Make sure that you remove your current SEO package and/or any hardcoded tags from all pages in your website before enabling 1902 SEO plus. This is very important, as not removing your existing tags will result to duplicates that can be harmful to your site's SEO.
Note that 1902 SEO plus has already copied and imported your site's SEO settings, which are also recorded in the summary report that you have downloaded after the scanning process. You can use the summary report as a guide or reference to check which pages you should remove tags from.
I'm not sure if I have successfully removed all existing tags. Can I run the scanner again?
Yes. You have the option to rescan your pages any time after the initial scanning. When you enable the package, it will automatically rescan your site.
After the package is enabled and even while you are already using 1902 SEO plus, you can always rescan your pages through the dashboard.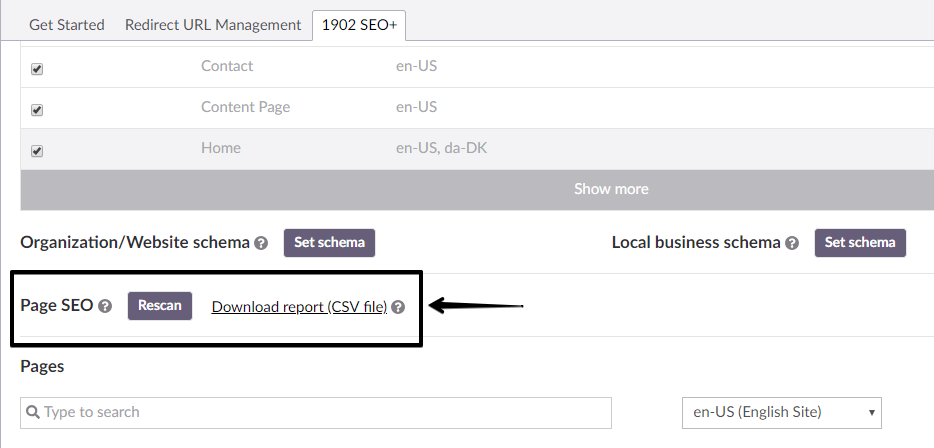 A downloadable summary report will always be available after each scanning process.
Adding the partial view for 1902 SEO+
After you have removed your hard coded SEO tags (if there are any), it's time to insert the partial view for 1902 SEO+.
You need to add the partial view in your Header Tag, This is mostly located on your master template.

Once you have added 1902 SEO+ partial view in your master template, click the 'Save' button, and you're all set!
How does 1902 SEO+ review my page for technical SEO and performance?
1902 SEO plus cross-checks your site with known SEO best practices and Google's own recommendations.
In the 'Summary' section of your page's 1902 SEO plus tab, you can see insights and suggestions grouped into three categories: Template, Focus keywords, and Performance.
Important issues are marked in red; suggestions for improvement are in yellow; while good SEO practices are in green. Keep in mind that all these are simply recommendations and therefore some may not be applicable to your pages depending on the situation.

(For example, we may warn you that your site is set to noindex, nofollow because site owners usually want their pages to be indexed by search engines; but you may have deliberately set your page that way because you don't want it to appear on search results.)
It is still completely up to you to decide which of the issues we flagged are worth paying attention to, and this section only serves to call your attention to aspects of your SEO that you may want to improve.
Here is a breakdown on how each aspect under these categories are reviewed:
Template
Meta Robot – checks the meta robots tag on your page (i.e., the part where you set index/noindex and follow/nofollow links).
AMP page – checks whether your page is a valid AMP page.
Open Graph (Open Graph, Twitter) - checks the Open Graph settings of your page; for the Title and Description, 1902 SEO plus also checks the length and provides recommendations based on minimum and maximum recommended lengths.
Title – checks the title tag for your page and provides recommendations based on minimum and maximum recommended lengths.
Meta Description - checks the meta description tag for your page and provides recommendations based on minimum and maximum recommended lengths.
Broken Links – checks all the links within your page and lets you know if any of them are broken.
Hreflang – checks the hreflang tag of your page.
Image Alt – checks all the images within your page and lets you know of any images with no alternate text.
Canonical URL – checks if you have set a canonical URL for your page.
Focus keyword
You can select a single focus keyword from the dropdown to see insights and recommendations for your content based on the selected keyword.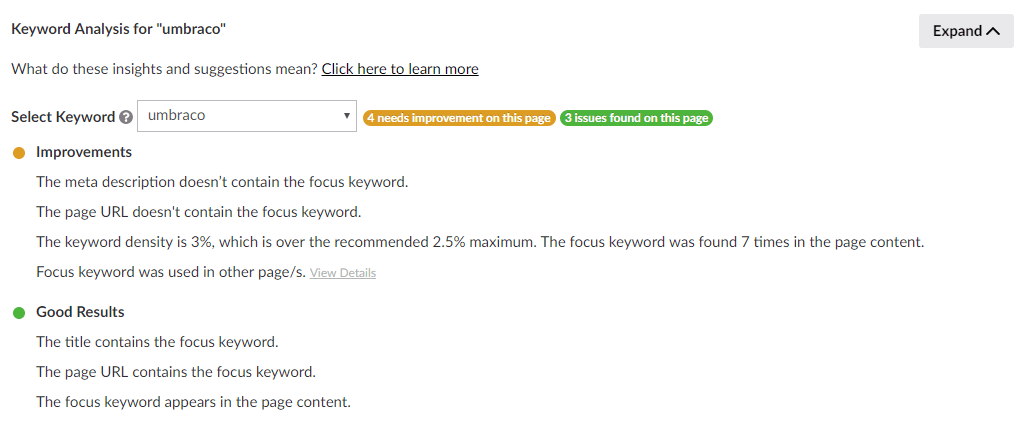 1902 SEO plus checks:
If your focus keyword can be found on your (1) page title, (2) meta description, (3) page URL, and (4) page content.
How many times your focus keyword was found in your content (keyword density), and compares it against the maximum recommended keyword density.
If your focus keyword was also used for a different page within your site, to avoid keyword cannibalism.
Performance
Additional calls – checks the total calls count of your page against the maximum recommended count.
CSS and JS minification – checks whether your CSS and JS files are minified.
GZIP compression – checks whether GZIP compression is enabled or disabled.
HTML size – checks the size of your HTML against the recommended size.
Image size – checks the size of your images against the recommended size.
How do I read the summary report from the SEO scan?
You can download a CSV file which contains a summary report of the current SEO settings of your website pages anytime starting from your initial installation of the package. This file gives you an overview of all your pages' SEO settings, as well as provides you a list of any duplicate tags that 1902 SEO plus may have detected within your site.
The summary file is available for download:
Upon installation after 1902 SEO plus has finished scanning all the pages within your site. If we detect duplicate tags at this stage, we will notify you and you can view all the duplicates in the CSV file.
Before enabling the package. After successful installation, you will be prompted to remove all existing SEO tags within your site before you enable the package. You can download the summary report and refer to the data contained in the file for the pages with existing SEO tags.
After you enable the package. When you enable the package, 1902 SEO plus will perform a rescan of all your pages. If you failed to remove existing tags after enabling the package, they will be flagged as duplicates in the summary report. You can then download the report to see where the duplicate tags were found and use it as reference as you remove the duplicates from your site.
What's inside the summary report?
Note: If you are having trouble viewing the report in columns, follow the steps below: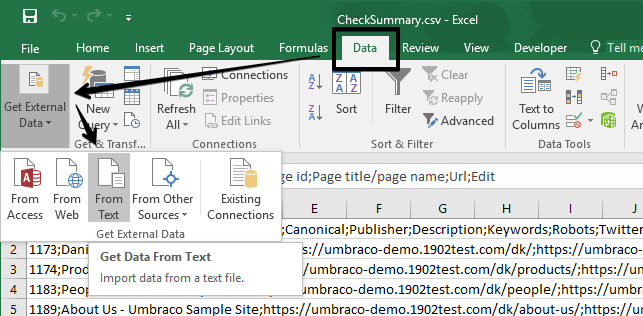 Open Microsoft Excel and click on the 'Data' tab. Select 'From Text' in the 'Get External Data' section.
Find the CheckSummary.csv file that you have downloaded and click 'Import'.
On the Text Import Wizard, select 'Delimited' under 'Original data type' and click 'Next'.
Check 'Semicolon' under Delimiters on the next screen. On the Data preview, you will see that the text has been sectioned off into columns. Click 'Next'.
Select 'General' under 'Column data format' and click 'Finish'.
Choose where you want to place the data (existing or new worksheet) on the next screen then click 'OK'.
The summary report contains the following columns:
Page ID
Page Title
URL – The frontend URL for your page.
Edit URL – The URL to the backend so you can go straight to editing your page.
Current SEO settings (title, canonical, publisher, description, keywords, robots, open graph settings (open graph, Twitter), description, and image) – These are the existing SEO tags within your site and their values, if any.
Duplicate tags – These contain the duplicate tags detected within each page, separated by a comma. If there are no duplicate tags on a page, the row will be left empty.
Error count – The number of duplicates detected on the page.
Published – This indicates whether your page is published (live) or not.
Log – Log for developers.
When checking the summary report, you may want to focus on the Duplicate tags and Error count columns. You can rescan your pages at any time by clicking on the 'Validate' button under Page SEO on your 1902 SEO plus dashboard. This will generate an updated summary report so you can always check for duplicate tags within your site.
Release notes
November 12, 2019 - v.2.1.1 Release
Support for Umbraco 8.1 and 8.2
November 20, 2019 - v2.1.3 Release
April 4, 2022 - v2.1.4 Release
Support for Umbraco 8 multi domain setting of global open graph values, schema and sitemap