There are different types of website surveys that you can set up on your site depending on what you want to know or which set of users you want to hear from.
It's important to define the purpose for your survey first so that you don't bombard users with all the questions you have regardless of relevance to their browsing journey.
1. Exit intent pop-ups.
Exit intent pop-ups are often used for capturing leads before users click away from your site, but they're perfect for presenting your survey questions, too.
These pop-ups appear on a web page when triggered by a signal that a user is about to exit—like moving the cursor to the upper right to close the tab or window.
These triggers can only be captured on desktop, though, since it's hard to determine exit intent on a mobile phone.
Exit intent pop ups are best for finding out missing content or elements that make users leave, barriers that prevent them from converting, or even whether the visitors that you're getting are the right target audience you're going for.
2. Page-specific surveys.
Not all of your users come to your website with one common goal—some may already be intent on purchasing, some just browsing around, and others still may be existing customers just looking for help with your product or service.
With page-specific surveys, you can address relevant questions to your users depending on where they are on your website (and on their browsing journey).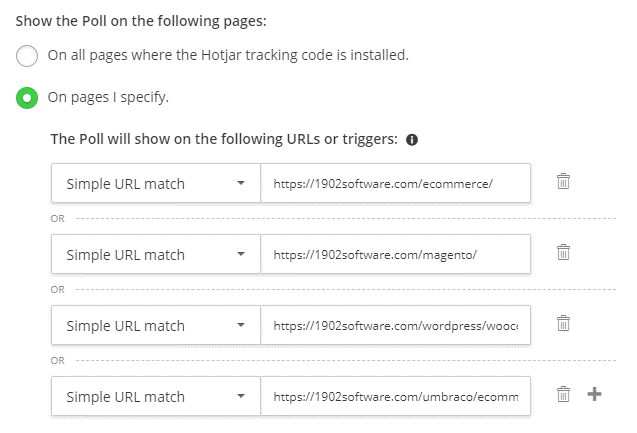 (A sample setting for a Poll setup in Hotjar—if we want to get feedback from customer prospects for ecommerce, we can set up a page-specific survey that will only show to ecommerce related pages)
3. Dedicated feedback pages.
If you don't want any pop-ups to distract your website visitors as they're browsing through your pages, you can simply set up a dedicated feedback page that you can link to from all your other landing pages.
Though this page may not be as effective as getting responses compared to exit intent pop-ups or page-specific surveys, you at least have a dedicated place for users who you want to provide feedback about their experience on your website.
Website survey in action
We recently did a revamp of our website menu to better emphasize our main services—ecommerce, website, and custom software.
Though the service pages were the focus of this revamp, some of the pages in the menu were unknowingly lost in the shuffle—like our address and contact information page.
It wasn't until we ran the feedback survey as shown in the sample above that a website visitor informed us they had a hard time finding our email address (which was in the contact information page buried under the Who We Are menu).
The insight from this specific survey response is something that we wouldn't have seen in a heatmap and maybe only barely from a session recording.
Keep in mind that when you work a lot on your website, it's a challenge to see things out of place because you're looking at a layout that you've already seen a thousand times before.